I've been a pretty big fan of The Offspring ever since 4th grade when
Americana
came out. Before that album dropped, I was only listening to bands like the Backstreet Boys and 98 Degrees. But when "Pretty Fly for a White Guy" came onto the radio, I knew I was destined to listen to shitty rock from that point on. And for my 10th birthday, I got
Americana
. Pretty soon after I got the album though, my brother lost the album and I was left listening to Britney Spears and Ricky Martin until I discovered CD burning.
The Offspring have fallen off recently with their new album
Rise and Fall, Rage and Grace
. It seems like they are one of those bands that unfortunately gets worse with every album they release.
Smash
is an incredible album and the highest selling independent album of all time with 16 million copies sold worldwide.
Ixnay on the Hombre
is also incredible, but clearly not as good as their previous effort. And though
Americana
is the band's second best selling album, it is much more poppy than this punk band should sound.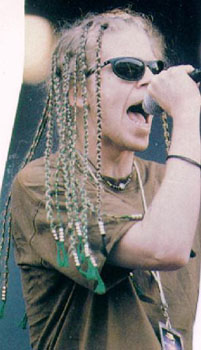 Nonetheless, even though the band has shown its age (they are all around mid-40s), I still respect the band for their awesomeness. Firstly, Dexter Holland, the lead singer, is an absolute genius. Before joining the band, Holland was pursuing a Ph.D in molecular biology from USC. And he runs marathons. Secondly, when Napster came out, they were one of the few bands that encouraged their fans to download their music. They were contrarian and anti-establishment before Nine Inch Nails re-started the trend. Thirdly, when Axl Rose appeared at the MTV VMAs with blonde dreads, years after Dexter Holland had the same hairstyle, The Offspring decided to steal his album title,
Chinese Democracy
. Their album would be called
Chinese Democrazy (You Snooze, You Lose).
Eventually the dispute was settled, and the album was titled
Splinter
. And finally, what prompted me to write this post was the name of The Offspring's summer concert, This Shit is Fucked Up. How ridiculous is it that they can title their concert This Shit is Fucked Up. Who does that? Check out the video below for their tour preview. The tour includes some absolutely awesome bands like Pennywise, Shiny Toy Guns, Sum 41, and Alkaline Trio.